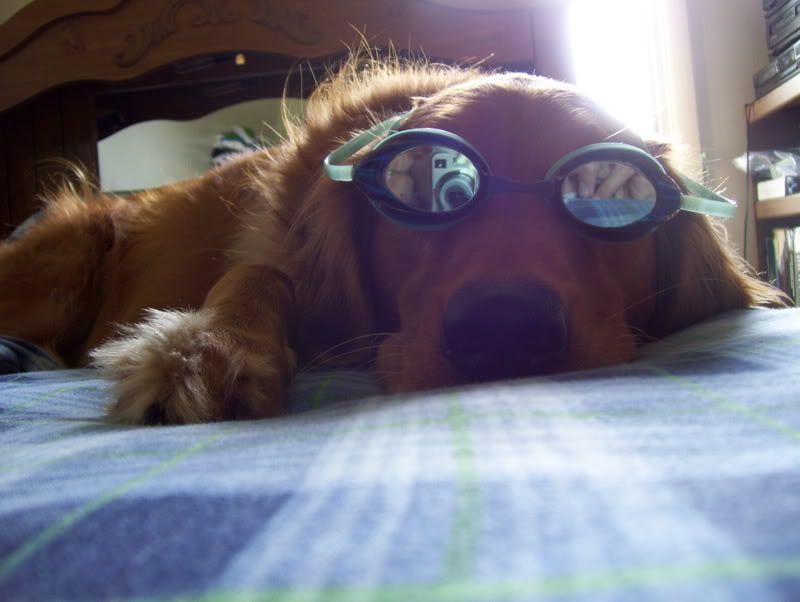 Today was another scorcher. I had been promising to spend some quality time with my dog, "The Bails." I had read an article about a park for dogs in Stow called Bow Wow Beach and with the weather in the 90's I figured why not today.
I grabbed his leash and my sunglasses and off we headed. It was about a 20 minute drive and when we got there I could see it was fenced in as described in the paper and there were about 20 or so dogs running in and out of the water chasing tennis balls, there tails and each other.
Bails had seen the same. His body was erect and you could just see the excitiement. I had him leashed and he patiently waited for me to open the door. Then the patients ended. He began yanking me everywhere sniffing this and sniffing that. Whoa, stop slow down, but there was no stopping him today.
We got in the gates and he immediately started barking and chasing the other dogs. He was just playing, but he was indeed bullying them. I yelled at him to be nice and stop it. We walked to the water, but he wouldn't go in. People can't swim there, but I had sandals on so I walked in a little ways. He hesitantly followed for a second, but then jumped out to bark and chase a 3-legged dog. I yelled at him again to no avail.
A good samaritan who trains dogs came over and explained to me that I needed to leash him for a bit, tell him to be nice and then praise him when he was nice to the other dogs and scold him when he barked and bullied them. We began walking the beach introducing ourselves to each doggy that approached and I petted Bails and told him "be nice" and "good boy" repeatedly. We worked on this for about a half hour and then tried it off the leash. He was much better, but still slipped up every now and then.
We walked down to the other end of the beach and I waded in about mid thigh trying to coax him in. He would come in up to his chest and then run back out the first few times until he finally gathered up enough courage to go a bit farther. I was so proud of him. He was swimming!!! I thought he was an alligator circling me with his head above the water (haha).
We got out and walked back toward the exit when he ran into a black lab named Nick who was just a puppy but definately looking for a buddy. Bails tackled him and barked, chasing him all over and Nick did the same. I shook my head and yelled to be nice. Nick loved it. Oh no!! His owner came over to explain how her dog had no common sense and friended every dog even the bullies. Finally, the two dogs stopped goofing around and seperated. Bails took one more dip in the lake before we left.
The park provided us with a hose (Thank God some dog had taken a dump in the lake and there were fish too. Eeeewww!!!) so one more shower for Bails today. He trotted to the truck and shook off before jumping up into his seat. He laid down almost immediately in the truck for a nap and now two hours later is still chilling. Although, I myself skipped my swim and will have to make up a 15 mile run tonight after work at 11:00pm it was all worth it to see my doggie smile.