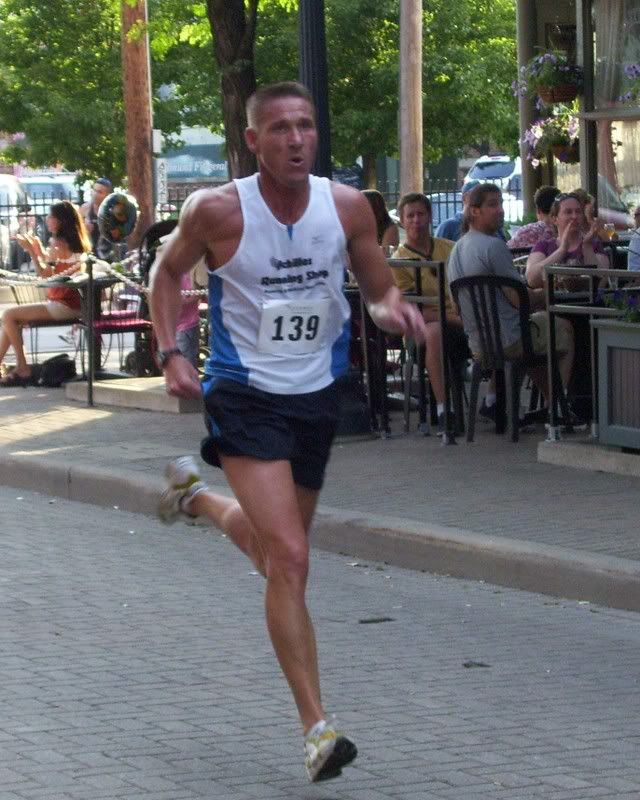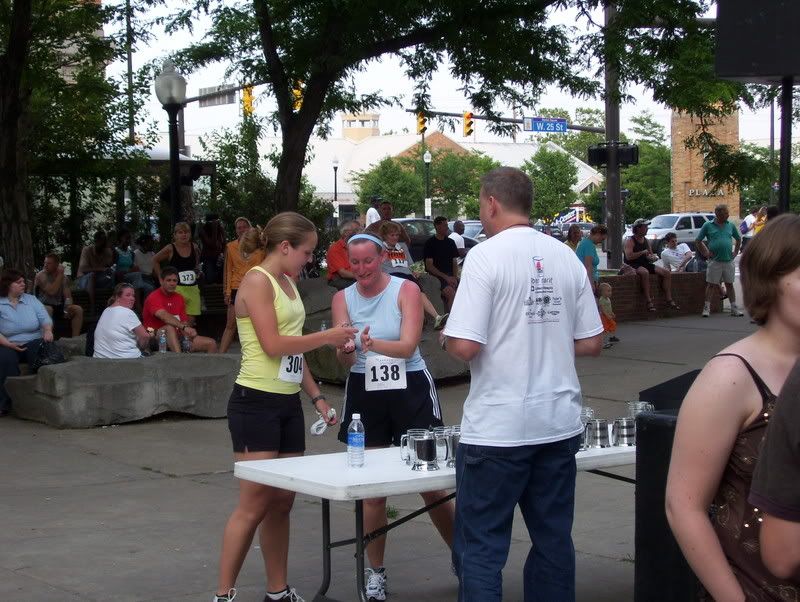 There is no way I am going to better my unofficial time of 25:10 from Wednesday. The heat was in full swing and my legs were not. I was feeling sluggish all day and even an ice bath did not seem to do any good.

I left early once again to get downtown by 5:30 as I knew parking would be a bit tricky. I remembered a lot across from Great Lakes and with luck there was a spot for me and parking was $5, much better than $10. They were still setting up the registration tables and only a few runners were here besides me so I took the time to walk to the square snap a few photos and just enjoy the scenery.

After, packet pick-up I headed off the find a bathroom. Just as I found one the phone rang. It was the Walrus. He was a bit lost. He had taken 2W instead of 90W so I did my best to direct him in and lead him to the oh so close parking lot. No worries.

We grabbed a map of the course which seemed to have a lot of turns and decided to run it as our warm-up. It was only 6:00pm we had an hour. The course was really really flat with one tiny incline toward the end of mile 1. There was not a ton of shade, but some and we found mile marker 1, 2 and the H2o stop with out difficulty.
Here is my question...When coming off a hard turn why is the H2o station always right after on the far side of the street???? I had previously missed H2O stops in races simply for that reason and was not going to waste time bee-lining back, but today I was ready. As we came down the last mile, which was pretty much a straight shot the Walrus indicated all the things I was thinking 1) This was not a PR course 2) Here is where the pain sets in 3) I better be running my ass off from here on out or he wouldn't talk to me for a month and a week 4) How are my legs going to be after running a PR just 3 days before???
We took some pics with other running buddies when we got back, discussed the route with them and stretched before lining up on the cobblestone. I watched the people at Great Lakes Brewery sitting in the shade drinking their beer and relaxing and started to wish I was one of them and crap I am not ready to run hard in ..... and then the race started....
I figured I had nothing to lose by pushing the pace the first mile so I went out hard. I did not have to wait long for the pain and heavy breathing to start. I tried to stay calm and not panic. This is what happens when you go out hard. Yeah, but will I have enough left to finish? Mile 1 - 7:39. I was elated. It was flat and it was faster than Wednesday.

The second mile was a bit rougher. I kept looking for W58th street while trying to relax, breathe, look up a bit so I did not look like a troll as the Walrus says and catch anybody in front of me. Finally, it came and I made the turn. The next turn is the H2O station and I was ready. I grabbed some and took about 2 sips and poured the rest on me, knowing if I overheated it would be all over. Mile 2 - 8:36, yup I knew I was going to pay for that first mile. One more to go though. It isn't over yet.

As I came down the long straight away I started thinking about what the Walrus said about the pain really starting here and what do ya know, it did. I knew he was on his way back to get me and I thought about slowing to recover a little, before he got to me and pushed me, but something said no, not today so I pushed forward. There he was. I hit the stop on my ipod and began listening to him instead of my tunes. Sometimes I really miss my tunes. My breathing was very labored and I was tiring at an exponential rate. We came to Mile 3 and he yelled at me to go get this girl about 5-10 feet in front of me at the corner. I could see 10-20 other people in front of me to struggling to finish, but he wasn't saying anything about running them down.

Now, I don't know where it came from or how the idea got in my head, but somehow I found it. I screamed at myself to just "GO," and with that I easily took that girl, but it wasn't enough, not today. I passed them ALL. I heard the Walrus behind me telling me to keep going and I did. I have not felt that fire in my heart or lungs for that matter in a long time. I was no longer breathing as I crossed the finsih. I was hyperventilating. I check my watch 25:01. Sweet, another PR to replace the Wednesday PR, but sh*t I missed a sub 25 by 2 seconds!!!! Blah!
The Walrus came running over and gave me a big hug and some water. He helped me to sit for a second and catch my breath. He too had gotten another PR, 17:48. Awesome, I was so proud of him. He went for a cool down with some friends and I caught my breath and then went for my own with MT.

At the awards MT managed to get 3rd in our AG even though it was 10 years again and not 5, while the Walrus had managed to pull out a 1st in his AG. A few of my other friends had grabbed some PR's on this course today too and we all decided to stick around a have a beer to celebrate, even though I had less than 12 hours until my first Duathlon.

I made it home before 10:30pm and jumped in for a quick ice bath, hoping it would help for tomorrow. I started packing my gear and although I was trying to focus on the next race tomorrow my thoughts kept going back to my new PR. I was happy I got it, but a 2 seconds, 2 seconds. Then the official results came out on Sunday afternoon....24:58. Oh my God, I did it. I broke 25. I have never been so happy to have my watch run slow. I called the Walrus who was taking a nap after the hellish Duathlon we had just done and woke him. "Guess who broke 25, " I said. Of course he knew, "You did. Awesome job Baby! Now it is time to break that 24." And all I could think, "YES IT IS TIME!"